News
Music band "Khoreia Kozatska" was awarded the Shevchenko National Prize
13.03.2023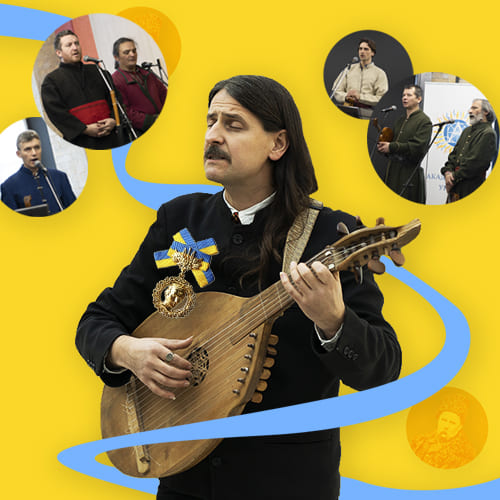 Musicians Taras Kompanichenko, Maksym Berezhniuk, Severyn Danyleiko, Yaroslav Krysko and Serhii Okhrimchuk perform ancient Ukrainian music and play age-old musical instruments.
This year, they received the highest award, the Shevchenko National Prize, for their "Pisni Ukrainskoi Revoliutsii" ("Songs of the Ukrainian Revolution") album, as members of the "Khoreia Kozatska" band.
"Khoreia Kozatska" and the JAS have worked together many times. The musicians have performed for the JAS community at the defence competition during summer schools and festivals. And in 2019, the band joined the European Girls' Mathematical Olympiad (EGMO), performing for international delegations.
Listen to the winning album "Songs of the Ukrainian Revolution" here.
Last news
17.03.2023
Феномен кризи: як МАНівці вивчали екзистенційні питання на курсі з філософії
30.03.2023
Як українські діти вчаться креативних рішень: завершилася V Всеукраїнська олімпіада креативності «Destination Imagination»
27.03.2023
У ТРЦ «Gulliver» відкривається інтерактивний науковий музей